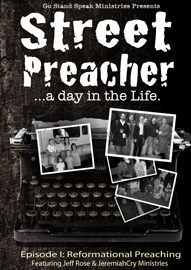 Go behind the scenes with several street preachers. Don Karns, Mike Stockwell, Robert Parker, and particularly, Jeff Rose from JeremiahCry Ministries. Jeff and his family have been traveling the world preaching the gospel for several years, (much of the time in an RV until most recently when they settled in the NJ area.)
Jeff and his wife Pearl have 4 daughters (and another child on the way!) We followed Jeff around for several months and not only got some great preaching interaction, but key behind the scenes look at what a street preacher really experiences; the preparation; the conflicts; the personal life; temptations; and much more. It's not always pretty, but it will encourage you greatly as you step out in your own calling and area of life for Christ.
We speak with Jeff's Pastor as well and get his take on street preaching. You'll see why and how he has taken the step into the streets personally. We visit with Jeff in his home, at church and in his "study" as he discusses the true marks of calling, sending and the specific required qualities of the street preacher.
The subtitle of Episode I is "Reformational" preaching. Otherwise referred to "Contextual" or Book of Acts" preaching. Reformational Preaching is the proclamation of Truth as defined in Scripture…it's an uncompromising stance against all forms of heresy and deception. It's also the true gospel spoken under the unction of the Spirit, manifested in all areas of life and society. Yes, you'll see tons of reformation preaching up close and behind the scenes uncut…and of course, all that comes along with it- conflict, hecklers, threats, police, complaining Christians and yes, conviction under the Holy Spirit. You won't find any of this preaching footage on Youtube. It's completely exclusive to this DVD. I pray that this DVD blesses you as much as it did us in filming it.
Visit the film website at www.streetpreacher.tv
Buy it

Watch Trailers:


"Street Preacher…a day in the Life" NEW DVD Preview from pat necerato on Vimeo.